Drop by drop Intel announces more technical data and functions for the first generation Arc alias Alchemist. The strategy (if any) of the presentation and publication can be discussed. The Arc A380 (test) has not been a big hit as an entry-level variant for the Asian market and has suffered mainly from incomplete drivers and many bugs.
Intel has now released technical data for the other three models – A580, A750 and A770. So far there were only rumors and data that happened – these are now to be considered final.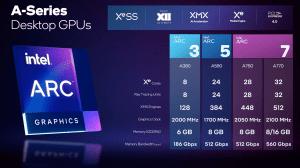 But now we come to the technical data of the other three models:
Comparison of Arc variants

| | | | | |
| --- | --- | --- | --- | --- |
| | A380 | A580 | A750 | A770 |
| X core | 8th | 24 | 28 | 32 |
| FP32 units | 1,024 | 3,072 | 3,584 | 4,096 |
| Ray Tracing Unit | 8th | 24 | 28 | 32 |
| XMX units | 128 | 384 | 448 | 512 |
| GPU clock | 2,000MHz | 1,700MHz | 2050MHz | 2100MHz |
| GDDR6 memory | 6GB | 8GB | 8GB | 8 / 16GB |
| memory interface | 96 bits | 256 bits | 256 bits | 256 bits |
| memory bandwidth | 186GB/s | 512GB/s | 512GB/s | 560GB/s |
| connection | 8x PCIe 4.0 | 16x PCIe 4.0 | 16x PCIe 4.0 | 16x PCIe 4.0 |
| TDP | 75W | – | 225W | 225W |
Only the Arc A380 is based on the ACM G11 GPU with a maximum of eight Xe cores. The other three models use the ACM-G10 chip. This is used in the expansion stages of 24, 28 and 32 Xe cores. Consequently, the further expansion with ray trace, shader and XMX unit is obvious. The GPU clock is in the range of 2 GHz in three out of four models, only the A580 is clocked a little slower at 1,700 MHz.
In three mid-range and high-end models, the memory is connected through a 256-bit memory interface. The A770 will be available in 8GB and 16GB variants. Depending on the memory clock, the memory bandwidth is 512 to 560 GB/s. The system is connected via 16 PCI Express 4.0 lanes.
At least for the A750 and A770 we now also know the TDP. It should be 225 W here. Intel still hasn't released any information about the A580.
It is also important to distinguish between the chips as such, which can be used by board partners, and as limited edition cards, which come directly from Intel. The 225W TDP for the Arc A750 and A770 refers to these limited edition cards, although partner designs are not expected to vary significantly.
Intel still hasn't made any announcements about availability. Arc A750 and A770 should be available shortly. The limited edition cards will be available through their own online and retail stores. The presentation of board partner models for the A5 and A7 series is still pending. So it would be a while before we actually see the cards in the stores.
NVIDIA plans to introduce the next generation as early as September 20 – a lot to evaluate the timeline in which we are currently moving.
Privacy Notice for Youtube
At this point we would like to show you a YouTube video. However, protecting your data is important to us: when you integrate and play YouTube, it places cookies on your computer that can track you. If you want to enable this, just click the play button. The video is then loaded and then played.
Your Hardwareluxx team
Show Youtube videos directly from now on